2018 CALL FOR ABSTRACTS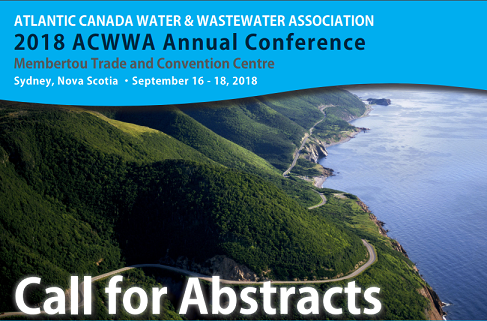 "Turning Tides"
Call for Abstracts
ATLANTIC CANADA WATER & WASTEWATER ASSOCIATION
2018 ACWWA ANNUAL CONFERENCE
MEMBERTOU TRADE AND CONVENTION CENTRE
SYDNEY, NOVA SCOTIA
SEPTEMBER 16th - 18th, 2018
DEADLINE TO SUBMIT: APRIL 18th, 2018!   
(MARCH 31st FOR HANDS ON TECHNICAL DEMONSTRATIONS)
For the frst time in recent history, the Atlantc Canada Water and Wastewater Associaton welcomes delegates to Sydney, NS for the 2018 ACWWA Annual Conference. This conference not only marks the frst time in decades that the event will be hosted on Cape Breton soil, but it is also the first time the conference will be hosted on First Natons land, as the Membertou Trade and Conventon Centre has been selected as the host venue.
The theme for this year's conference is "Turning Tides" and how very fitting, as beautiful views of tidal waters border all paths that lead to Sydney. Whether it's working to meet ever changing regulatory requirements, modifying operations to adapt to seasonal variatons, or shifting organizational focus and directon to improve operatonal efficiencies – as Water and Wastewater Professionals, the Tides are always Turning.
Share your experiences and enjoy some of Cape Breton's world famous hospitality. In additon to engaging technical sessions, the ABEA tradeshow, and the Water Tower Building competition, delegates will have the opportunity to network at a Cape Breton Ceilidh.
While you're here, golf at one of our world renowned courses, take a trip back in time to an 18th century French seaport at the Fortress of Louisbourg National Historic Site, explore the breathtaking Cabot Trail, or enjoy some local beer at a nearby pub.
Your 2018 ACWWA conference experience
promises to be a memorable one.
Oral Presentations     
The ACWWA is inviting abstract submissions for the 2018 Conference in Sydney, NS. All topics related to the water and wastewater profession will be considered. Presentations will be 20 or 30 minutes in length with 5 minutes for questions.         
Calling All Students!   
In additon to being considered for the Fresh Ideas program and a chance of representng the Young Professionals of ACWWA at ACE 2019, we are offering an added incentve for students. New this year, students whose abstracts are accepted will have their conference registraton waived.
Hands-On Technical Demonstrations       
These would be a 1 – 1.5hr. time slot, where the chosen individual / group would present in a demonstration format, allowing for Q/A to either be incorporated throughout, or upon completion. There is a possibility of two time slots being allotted for this feature.
We would like to keep this as an informative presentation. Avoiding a sales style platform would be integral. "Hands-On" and "live Demo" being key components of this format.
Submissions must include a cover letter, referencing: Title / Presenter, Method / Equipment to be demonstrated.
Instructions for Submitting Abstracts       
Please submit an abstract (maximum length of 300 words) and a presenter biography (maximum length of 200 words) by Arpil 18th for Oral Presentations or March 31st for Hands On Technical Presentations by clicking HERE.
Also, please indicate if the presenter is a first time Young Professional participant at the ACWWA section conference, and would like to be considered for the Fresh Ideas program that has been developed through AWWA's Manufacturers/ Associates Council and the Young Professionals Committee. The top presentation selected from this group of presenters will be given the opportunity to compete in the Fresh Ideas poster competition at the AWWA Annual Conference and Exposition (ACE 2019) in Denver, Colorado, representing the Young Professionals of ACWWA. Along with complimentary conference registration provided by the ACE 2019 organizing committee, ACWWA will provide the winner with a stipend to assist with travel costs to the conference.
Selection Criteria
Submissions will be reviewed based on the significance of the work/content to a broad audience, originality of the work, new concepts, improvements or new data, technical content, the status of the completeness of the work, and the relevance to the theme of the conference if applicable. Case studies on new technologies and industry presentations that are innovative/educational are encouraged, however submissions that appear to be marketing material for a particular product or company will not be accepted.
Authors will be notified of the selection of their abstracts for presentation by the end of May, 2018.
Thank you for your submissions and we hope to see you in Sydney, NS!