2019 CALL FOR ABSTRACTS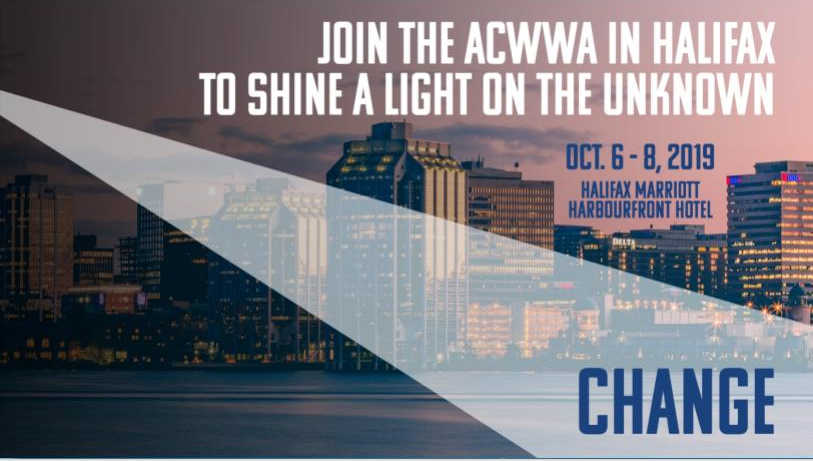 Uncharted Waters
Preparing for the Unknown

Call for Abstracts Now Open!
ATLANTIC CANADA WATER & WASTEWATER ASSOCIATION
2019 ACWWA ANNUAL CONFERENCE
HALIFAX MARRIOTT HARBOURFRONT HOTEL

HALIFAX, NOVA SCOTIA
OCTOBER 6th - 8th, 2019
DEADLINE TO SUBMIT: FEBRUARY 23rd, 2019! (March 29th for Hands On Demo)
It has been five years since the ACWWA Annual Conference was last held in Halifax, one of the most vibrant cities in Atlantic Canada. This year, the conference will be at the Halifax Marriott Harbourfront Hotel, located next to the beautiful Halifax Harbour. With access to the boardwalk, dozens of incredible restaurants, bars, and attractions, downtown Halifax is truly a glowing representation of urban living in Atlantic Canada.
Join the ACWWA in Halifax in 2019 to learn and share your knowledge while visiting this historic city with friends and colleagues in the Water & Wastewater industry. Whether it be regulatory change, disruptive technology, intelligent water networks, climate change, lake recovery, workforce changes, or asset management planning, come discuss current and future or potential challenges, as we collectively, prepare for the unknown. The conference will feature technical sessions, the ABEA Tradeshow, and industry networking opportunities.
Oral Presentations       
The ACWWA is inviting abstract submissions for the 2019 Conference in Halifax, NS. All topics related to the water and wastewater profession will be considered. Presentations will be 20 or 30 minutes in length with 5 minutes for questions.         
Hands-On Technical Demonstrations       
These would be a 45 minute time slot, where the chosen individual / group would present in a demonstration format, allowing for Q/A to either be incorporated throughout, or upon completion. 
We would like to keep this as an informative presentation. Avoiding a sales style platform would be integral. "Hands-On" and "live Demo" being key components of this format.
Submissions must include a cover letter, referencing: Title / Presenter, Method / Equipment to be demonstrated.
Calling All Students!    
In additon to being considered for the Fresh Ideas program and a chance of representng the Young Professionals of ACWWA at ACE 2019, we are offering an added incentve for students. New this year, students whose abstracts are accepted will have their conference registraton waived.
Instructions for Submitting Abstracts        
Please submit an abstract (maximum length of 300 words) and a presenter biography (maximum length of 200 words) by February 23rd clicking HERE.
Also, please indicate if the presenter is a first time Young Professional participant at the ACWWA section conference, and would like to be considered for the Fresh Ideas program that has been developed through AWWA's Manufacturers/ Associates Council and the Young Professionals Committee. The top presentation selected from this group of presenters will be given the opportunity to compete in the Fresh Ideas poster competition at the AWWA Annual Conference and Exposition (ACE 2020) in Orlando, Florida, representing the Young Professionals of ACWWA. Along with complimentary conference registration provided by the ACE 2020 organizing committee, ACWWA will provide the winner with a stipend to assist with travel costs to the conference.
Selection Criteria      
Submissions will be reviewed based on the significance of the work/content to a broad audience, originality of the work, new concepts, improvements or new data, technical content, the status of the completeness of the work, and the relevance to the theme of the conference if applicable. Case studies on new technologies and industry presentations that are innovative/educational are encouraged, however submissions that appear to be marketing material for a particular product or company will not be accepted.
Authors will be notified of the selection of their abstracts for presentation by the end of May, 2019.
Thank you for your submissions and we hope to see you in Halifax, NS!